Fall is such a beautiful time of year.  It is one of my favorite seasons, especially one of my favorite seasons to decorate for. Have you gotten all of your fall decorating done?  If not, here are a few fall ideas you might just "fall" in love with.  There is still time to decorate before the cold winter months are upon us.
This beautifully decorated front porch is a great fall look.  It may not be the most simple look, but it sure is eye-catching.  I love how cornstalks were used to tie around the pillars, the tower of pumpkins in different colors, the large and small mums to give some varying degrees of heighth, and of course the fall wreath!   This is a very sophisticated look all while encompassing the beautiful colors of fall.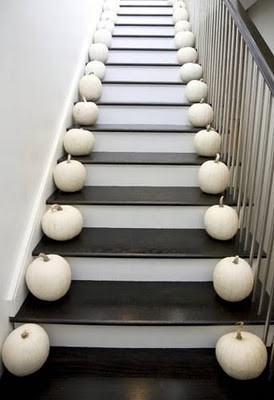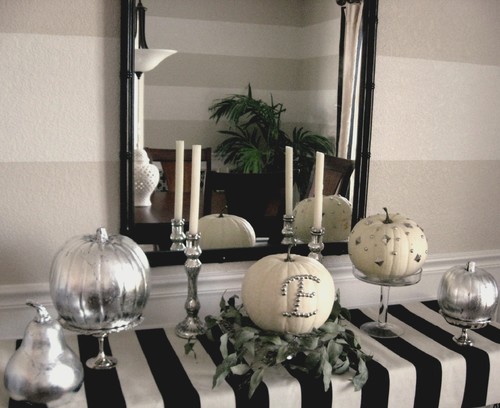 I have been seen a lot of white pumpkins this season.  White pumpkins can give you a new and different look than just the traditional orange pumpkins. These white pumpkins are chic, fun, and sophisticated.  Try  lining all of the same size pumpkins on your staircase  or arranging them on your buffet or dinner table.  Any way you use them, you will create a statement at your fall event!
Another great way to decorate outside your home is by lining your driveway with fall decor.  Try placing mums, pumpkins, and hay bales in varying sizes and colors in small vignettes to create a beautiful entry to your home!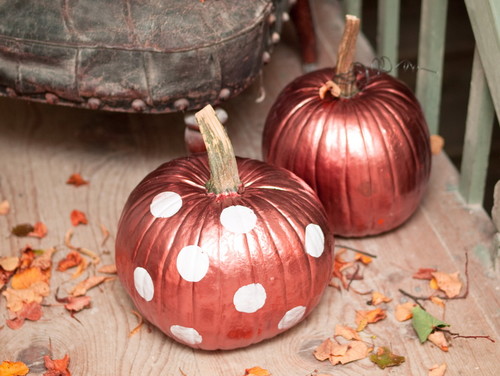 A fun way to get away from the traditional orange pumpkins is by using metallic paint to paint your pumpkins.  This will give your pumpkins a shiny finish and highlight their ridges and curves.  Then, place these pumpkins inside or outside your home to create a fun, fresh, and new look!
---
Here are a few other fall decorating must-haves to have on hand in your home:
1. Fall Pillows & Throws: Change the look of your home for every season.
2. Candles, Plug-ins, & Sprays in warm fall scents.
3. Fall Dishes: Change your dishes out to go with the season.
4. Fall Veggies like sweet potatoes, squash, and pears to decorate your kitchen.
5. Acorns: Use them to scatter on your table or to fill up a jar.
---
---
Ready to begin you staging or design project?  Contact INSTYLE by Colbi today to turn your dreams into a reality! (641)226-1990 or colbi@instylebycolbi.com.